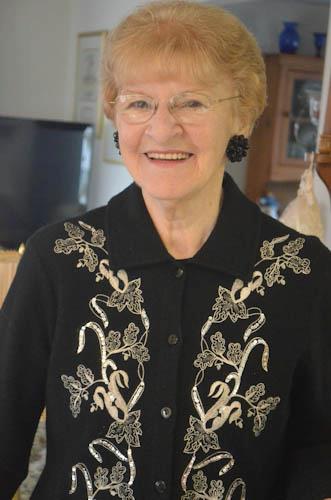 12/05/28 - 02/07/13


Margaret T. "Peggy" (Baggett) Szostak of Northborough, formerly of Methuen, died Feb. 7, 2013 at home with her family at her bedside. She was a young 84 and had maintained a positive attitude and her sense of humor since being diagnosed with lung cancer last May.
Born in Lawrence, Dec. 5, 1928, she was a daughter of the late Joseph and Matilda (LeBlanc) Baggett. She grew up in the Tower Hill section of Lawrence and was a 1946 graduate of Lawrence High School.
Peggy was the first female custodian at Methuen High School and worked there for almost 25 years before retiring in 2000. Everyone at MHS fondly called her Ma. Her co-workers held her in such high esteem that when she took a leave in 1993 to care for her daughter Kathy, a former MHS star athlete who was dying of brain cancer, they donated vacation days so she would not lose any pay. But Peggy's true calling was raising her eight children. With their uniforms pressed, hands cleaned and hair combed, she proudly sent them off to school during the week. On Sundays, the Szostak family filled a pew at St. Monica's in Methuen. As her children grew and began playing sports, she became their biggest fan, her cheers from the sideline rising above all others. She served as president of the Methuen Rangers Athletic Association.
Peggy was an excellent baker known for her black moons (whoopee pies) and banana bread with cherry cream cheese filling. After moving to Northborough in 2000, she energized the local Scarlet Women Red Hat group and was Queen Mum for several terms. She possessed a flair for the dramatic and took advantage of every occasion to dress up, whether for a Halloween stroll about her neighborhood or a Super Bowl Sunday visit to her granddaughter's basketball game while decked out head to toe in Patriots garb. Nobody could match her reading of passages and poems at family weddings. She was an avid Scrabble player and enjoyed crossword puzzles and classic movies. Sound of Music was one of her favorites. Creativity permeated every aspect of her life. A lover of "country clutter", her home could pass for a boutique.
She is survived by her daughters Jane Walsh and her husband Edmund of Northborough and Nancy Wright and her husband John of Westboro; her sons Michael and his wife Anne of Bristol, R.I.; Kenneth of Lawrence; Charles and his partner Geoffrey Oshima of Concord, Calif.; Paul and his wife Christine of Chester, N.H., and Robert and his wife Dyanna of Windham, N.H. She is also survived by her brothers William Baggett of Salem, N.H., and Francis Baggett and his wife Alberta of Windham, N.H.; her sister-in-law Jeannette Baggett of Wolcott, Conn.; her grandchildren Brooke Greenthal, Katherine Gerencser, Kaleigh Wright, Matthew and Patrick Walsh, John, Ryan and Amanda Szostak and Stephen and Dylan Szostak, and many nieces and nephews. Her daughter Kathy, sister Rita Kleponis, brother James Baggett and former husband Charles Szostak predeceased her.
Visitation will be Saturday, Feb. 16, from 9 a.m. to 11 a.m. with a brief service to follow at Heald & Chiampa, 5 Church Road, Shrewsbury, Mass. Burial will be Monday, Feb. 18, at 11 a.m. at Elmwood Cemetery in Methuen. In lieu of flowers, contributions in Peggy's memory may be made to the Kathy Szostak Memorial Scholarship Fund, c/o Nancy Wright, 34 Robin Road, Westboro, MA 01581